12th KOI World Cup & Training Camp Halkida, Greece
The 12th Kobe Osaka International World Cup and Training Camp was held in Halkida, Greece, on the Island of Evia where the training course attracted our biggest ever attendance. Instructors, referees, competitors and students from 29 countries trained together in karate-gis for four days prior to the competition. An unusual occurrence in some organisations perhaps, but not within the KOI "family".
The Championship too was a great success and went like clockwork. After the huge number of competitors at KOI 11 last year in Dresden, many people felt that KOI was in danger of losing its "family" identity if the trend were to continue; and so the instructors took a decision to restrict the number of competitors in future to 500. We are also happy to report once again that there were very few injuries and those few were all of a superficial nature. Compared to many other international competitions this is indeed remarkable and gives credence to KOI's policy of referee and competitor training prior to the competition itself.
KOI Delegates Dinner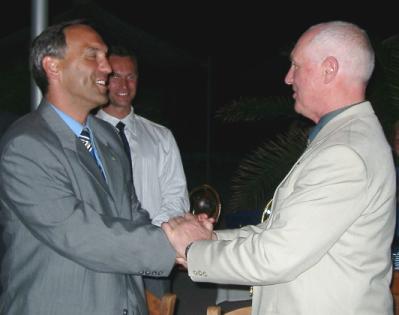 George Yerolimpos and Tommy Morris at the KOI Official Dinner
We would like to thank George Yerolimpos WKF General Secretary for the tremendous support which he offered to Kobe Osaka Greece in the organisation of KOI 12. We were also very honoured that he took the time out from an extremely busy and rigorous workload with the Organisation Committee of next year's Olympic Games in Athens to attend the KOI delegates dinner as our guest of honour.
Congratulations to Andreas Papadimitropoulos, President of Kobe Osaka Greece, and Costas Papanastasiou for organising such a fantastic and successful competition and on the award of Andreas's 5th Dan. There is a tremendous amount of effort involved in any big event and this is further complicated by the numbers of visa applications that are required for many of the foreign groups wanting to participate so to the office staff of Kobe Osaka Greece, a very, very big thank you.
The World Cup Competition
Kobe Osaka Russia again topped the medals tables with 15 golds and a total of 50 medals. Hardly a surprise when we see strong competitors such as Nurkenov, Tsoukanov, Gusov, Prikatzchikova (who took her 5th KOI Gold medal), Burmistrova, Novintchanova and many others.
Egypt took second place in the medals table with 10 golds and a total of 24 medals. It was wonderful to see Karim Fikry who competed in the first KOI as a little boy, taking two gold medals for the individual Shitoryu and the All Styles divisions. A big surprise was the strength of the group from Vietnam led by Pham Quoc Trong, they took 5 golds and a total of 15 medals putting them in third place overall. They will surely be a force to be reckoned with at this year's South East Asia games in December.
Uzbekistan led by Nurkon Nafasov maintained their usual high standard as did the Philippines led by Richard Lim. The New Zealand contingent led by Stella Lenihan goes from strength to strength.
This year we introduced separate kata divisions for Shitoryu, Shotokan, Gojuryu and Wadoryu as well as the usual WKF mixed style competition and it was a great success attracting many top competitors.
Here is the medals table ranked by the number of gold medals won, then by silver. The complete medal winners name list is available for downloading. You will need Adobe Acrobat Reader on your computer to read it.
KOI 12 Medals Table
| | | | | |
| --- | --- | --- | --- | --- |
| Country | Gold | Silver | Bronze | Total |
| Russia | 15 | 10 | 25 | 50 |
| Egypt | 10 | 6 | 8 | 24 |
| Vietnam | 5 | 5 | 5 | 15 |
| Uzbekistan | 4 | 5 | 3 | 12 |
| Philippines | 2 | 3 | 8 | 13 |
| Kazakhstan | 2 | 2 | 4 | 8 |
| New Zealand | 2 | 1 | 5 | 8 |
| Northern Ireland | 1 | 1 | 0 | 2 |
| Netherlands | 1 | 1 | 0 | 2 |
| Belgium | 1 | 0 | 3 | 4 |
| Scotland | 1 | 0 | 1 | 2 |
| Greece | 0 | 5 | 10 | 15 |
| Germany | 0 | 2 | 2 | 4 |
| Slovenia | 0 | 1 | 1 | 2 |
| Latvia | 0 | 1 | 1 | 2 |
| Singapore | 0 | 1 | 1 | 2 |
| Italy | 0 | 0 | 3 | 3 |
| Chinese Taipei | 0 | 0 | 2 | 2 |
| Australia | 0 | 0 | 1 | 1 |
KOI 12 Training Camp
As in previous KOIs we held four days of training for the karate-ka, competitors, coaches and referees. The competition rules were again a feature of much of our training and the kata competitors were taught the Shitei kata of their style. Kumite competitors had the chance to work with the referees so that they were well informed as to what was required in order to receive a score and in particular about control. This pre-competition training was so popular particularly with the younger kids that they were actually fighting with each other to get on the tatami!
Jaap Smaal and Klaus Sterba conducted the training for Shotokan practitioners, Richard Lim for Gojuryu and Steven Morris and Loh Beng Hooi looked after the Shitoryu people. Richard Callaghan assisted by fellow Australian Marco Mazzanti and Alister MacAlister (Scotland) again demonstrated their superlative sport kumite skills and showed everyone once again why they are asked to teach for KOI year after year. In addition to the myriad innovative training methods and combination techniques they explained tactical application of the competition rules and demonstrated some of the throwing techniques which can now be used. This was an event which will be in all our memories for many years to come.
12th KOI Training Camp Instructors

From left to right, back row; Alister MacAlister, Loh Beng Hooi,
Gina Ragazzo, Andreas Papadimitropoulos, Tommy Morris,
Steven Morris, Richard Lim, Jaap Smaal, Klaus Sterba.
Front row; Marco Mazzanti, Richard Callaghan
Officials
A special vote of thanks to all the referees and judges who worked so hard especially on Saturday 19th July when there was virtually no time to rest all day and to all the table officials for a good job well done. Thanks once again to our internationally qualified referees, Jaap Smaal from Netherlands, Klaus Sterba from Germany, Sergey Sokolovski from Russia, Con Kassis from Australia, Pham Quoc Trong from Vietnam, Oliver Brunton from Northern Ireland, Loh Beng Hooi from Sabah, Mark Pennel from New Zealand, Mohey El Din Mohamed from Egypt, Alister MacAlister from Scotland, Ilia Christou and John Kannellis from Greece, who together with their other KOI and Greek colleagues all helped to keep things on track under pressure.
Team Leaders
A big thank you to all the team leaders and heads of delegation for their continued support and all the effort they made to bring the competitors to Greece. This year the biggest overseas group came from Egypt organised and led by Dr. Mourad Assem closely followed by Russia. KOI main groups and their representatives who took part were:
Australia; Richard Callaghan, Marco Mazzanti
Belgium; M. Maloir and M. Custinne
Chinese Taipei; Hsieh Fu-Hsiu
Egypt; Dr. Mourad Assem
England; Trevor Edge, Brian Wilson
Germany; Klaus Sterba
Greece;Andreas Papadimitropoulos and Costas Papanastasiou
Hongkong; David Sung Ka Kui and Fung Wai Kwan
India; Sudevan Shibi
Italy; Gina Ragazzo
Kazakhstan; Timur Shataev and Vitaliy Schevchenko
Latvia; Andris Vasiljevs
Malaysia and Sabah; Loh Beng Hooi
Netherlands; Jaap Smaal
New Zealand; Stella Lenihan, Mark Pennell
N. Ireland; Oliver Brunton
Norway; Robert Hamara
Philippines; Richard Lim and Juan Carlos Veguilles
Russia; Rafael Aktchourine and Sergey Sokolovski
Scotland; Steven Morris and Boyd Park
Singapore; Richard Ng and Francis Hong
Slovenia; Jernej Simerl
Uzbekistan; Nurkon Nafasov
Vietnam; Pham Quoc Trong

Apologies
Not unexpectedly we had apologies from some of our member groups who were unable to get their visas in time and consequently were unable to attend. Team leaders should remember that they must apply in plenty of time if they need visas, otherwise they and their competitors may be disappointed.
Course Instructors
Our sincere thanks to the course instructors for giving so willingly of their time and expertise over a great four days; Tommy Morris, Steve Morris, Richard Callaghan, Loh Beng Hooi, Alister MacAlister, Marco Mazzanti, Richard Lim, Jaap Smaal, Klaus Sterba, Gina Ragazzo and Andreas Papadimitropoulos.
And Finally...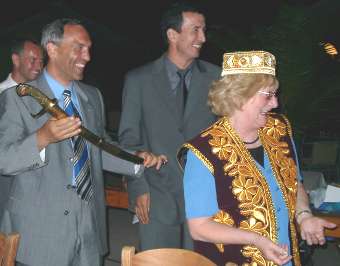 George Yerolimpos and Angela Morris receive gifts
from Nurkon Nafasov of Uzbekistan
Next> Join Us!