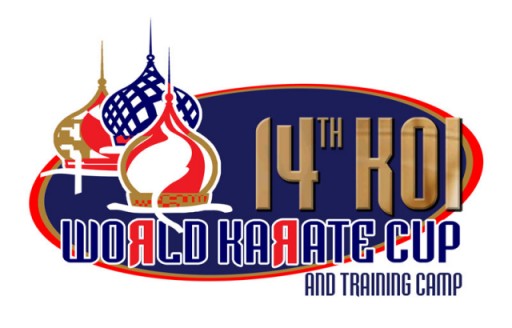 Victoria Lee (Kazakhstan) scores against Elena Kuznitsova (Russia) in the repechage
Every year we say that the latest Training Camp and World Cup has been a great success and that it will be hard to improve upon next year. Well Kamil Musin has just proved that it can be improved upon by hosting and organising an absolutely superlative event. The venue for the Training Camp was the same as for the World Cup itself and the Instructor Course had the added benefit of a beautiful separate training studio with tatamis and mirrors. The 4,500 seater stadium was laid out according to WKF specifications with four competition areas in-line and with a huge KOI banner forming part of the backdrop. Thirty one countries were represented and some 530 competitors took part in an exciting three day event which produced some of the highest levels of skill we have ever seen. In fact some of the young competitors were nothing short of astounding. The opening ceremony saw a demonstration of team kata on four tatamis simultaneously by the Russian children which it would be fair to say was of a higher quality than some of the adult national teams at the last WKF Championships in Monterrey. With this level of skill we can only go from strength to strength. With 173 competitors not unexpectedly Russia were the medals leaders with a huge bag of 29 Gold, 23 Silver and 37 Bronze.
To view more photographs of the KOI World Cup and Training Camp click here
To view and download the results of KOI 14 click here
To view and download the medals table click here

KOI 14 Instructors from left to right, Jaap Smaal, Gina Ragazzo, Ricky Lim, Steven Morris,
Tommy Morris, Richard Callaghan, Loh Beng Hooi, Alister MacAlister, Marco Mazzanti
The three day Training Camp provided instruction in the four main styles of Japanese Karate with Shito being taught by Steven Morris, Shoto by Jaap Smaal and Gina Ragazzo, Goju by Richard Lim, and Wado by Loh Beng Hooi. In addition there was a large section for Kumite competitors taught by Richard Callaghan, Marco Mazzanti and Alister MacAlister. The course for instructors is intended to keep instructors up to date and to give interesting subject material that they can pass on to their students when they return home. The course covered WKF Shitei Kata, Self Defence, Ju Jitsu, kumite tactics and advanced kata. Once again the KOI instructors excelled themselves and due to their expertise and teaching ability the membership had a Training Camp to remember. Our sincere thanks to them all.

KOI Congress Buffet
The KOI Congress was held in the Izmailova Hotel on Wednesday 6th July and was followed by a sumptuous buffet. Costas Papanastiou represented Greece in the absence of Andreas Papdimitropolous and was successful in bidding to host next year's 15th KOI. Richard Lim presented the Philippines for consideration for 2007 and Dr. Laura Huang intimated the interest of Taiwan to host either 2007 or 2008.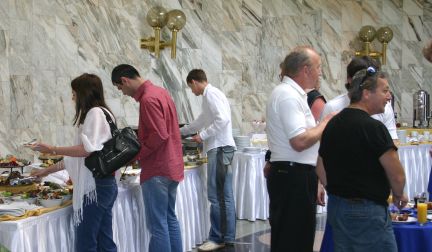 Press Conference Lunch Buffet
Thursday 7th July was a large press conference at which some twenty reporters and TV crews were present and afterwards another super buffet. The TV coverage was very significant with five cameras and crews and many hours of viewing to be aired over the next month. Large screen TV showing Kobe Osaka Russia and KOI events was also seen in Red Square by thousands of people. Kamil Musin's promotional work meant that we attained a level of exposure that we have never quite achieved before. His level of dedication and hard work are indeed a great credit to him and his team.
Officials
We have a special vote of thanks to Fabio Meini, Violetta Berna, Paola Proia and Roberto Boldrini from Italy who gave us so much help in organising the table officials. Thanks once again to our internationally qualified referees, Jaap Smaal from Netherlands, Klaus Sterba and Roland Lowinger from Germany, Loh Beng Hooi from Sabah, Mark Pennel from New Zealand, Mohey El Din Mohamed from Egypt, Steven Morris and Alister MacAlister from Scotland, Robert Hamara from Norway, Primoz Debenak from Slovenia, Vlado Derek from Croatia, David Sung Ka Kui and Fung Wai Kwan from Hong Kong, Vu Son Ha from Vietnam, Mohammad Ali Mardani from Iran, Basker Sinnouvassane from Dubai and Richard Lim from Philippines who together with their other KOI colleagues all helped us have another great and safe competition.
Team Leaders
A big thank you to all the team leaders and heads of delegation for their continued support and all the effort they made to bring the competitors to Moscow. This year the biggest overseas group came from Iran organised and led by Mohammad Ali Mardani and closely followed by Egypt. KOI main groups and their representatives who took part were:
Australia; Richard Callaghan, Marco Mazzanti
Belarus; Alexei Bogdanov
Croatia; Vlado Derek
Egypt; Dr. Mourad Assem
England; Trevor Edge, Brian Wilson
Estonia;
Fiji; Ando Fumihiro
Germany; Klaus Sterba and Roland Lowinger
Greece; Costas Papanastasiou
Hongkong; David Sung Ka Kui and Fung Wai Kwan
Iran; Mohammad Ali Mardani
Italy; Gina Ragazzo
Kazakhstan; Timur Shataev and Vitaliy Schevchenko
Kuwait;
Latvia; Andris Vasiljevs
Malaysia and Sabah; Loh Beng Hooi
Netherlands; Jaap Smaal
New Zealand; Stella Lenihan, Mark Pennell
Norway; Robert Hamara
Pakistan; Sajid Bhatti
Philippines; Richard Lim
Russia; Kamil Musin and Rafael Aktchourine
Scotland; Steven Morris and Alister MacAlister
Slovenia; Primoz Debenak
Taiwan; Dr. Laura Huang and Zoe Hsieh Fu-Hsiu
Ukraine;
UAE; Baskar Sinouvassane
USA; Jason Stanley
Vietnam; Vu Son Ha
---
13th KOI Report
If you want to read about the 13th KOI in Manila Philippines in 2004 click here
---
12th KOI Report
If you want to read about the 12th KOI in Halkida Greece in 2003 click here
---