16th Kobe Osaka International World Cup and Training Camp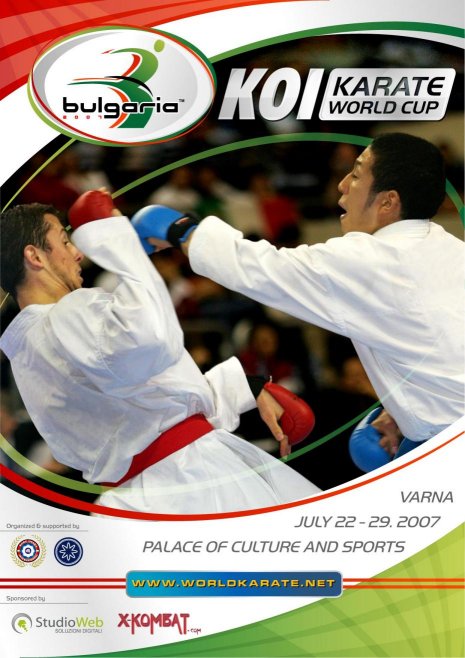 16th World Cup Competition
The 16th KOI World Cup held in Varna Bulgaria surprised us all with a huge entry equalled only by KOI 11 in Dresden in 2002. There were representatives from 29 countries, a total of 593 competitors, and 1168 entries in all categories. Once again injuries were minimal.
However it was an extremely busy time because a number of countries left their entries too late and the Bulgarian Federation were unable to supply enough staff to cope with the huge entry. The result was that we had to ask the referees and judges (and some of our student members) to roll up their sleeves and tackle all the work of running the tournament which they did admirably. We wish to record our sincere thanks for the terrific job that they did, in fact so good a job did they do, that we completed the last category within 15 minutes of the scheduled finishing time on Sunday afternoon! To all our tired and weary workers, well done, you made KOI 16 another resounding success.
Whilst it was extremely gratifying to have so many entries it gave us organisational problems that could have been avoided with the result that we had to modify the medals ceremony and cut the repechage on Saturday and Sunday so that we could run to schedule. To ensure that this does not happen again we will make adjustments to our entries procedures before next year.
The Opening Ceremony on Friday 27th July was attended by Mr. Ginyo Ganev the Ombudsman of Bulgaria, and the Mayor of Varna. The Bulgarian Karate Federation President Alexey Petrov very generously donated 500 tickets for KOI members to attend the famous Varna Dance Ensemble on Saturday 28th July.
Once again Kobe Osaka Russia under the leadership of Kamil Mousin dominated the medals tables with a fantastic haul of 56 medals; 17 Gold, 12 Silver and 27 Bronze. In second place was Bulgaria with 6 Gold, 6 Silver and 15 Bronze. New members Ukraine surprised everyone by taking third place with 5 Gold, 1 Silver and 4 Bronze.
You can view/download the results by clicking on the appropriate link. Use Adobe Acrobat Reader to open.
Click here to see the Medals Table
Click here to see the Results
Click here to see the Participants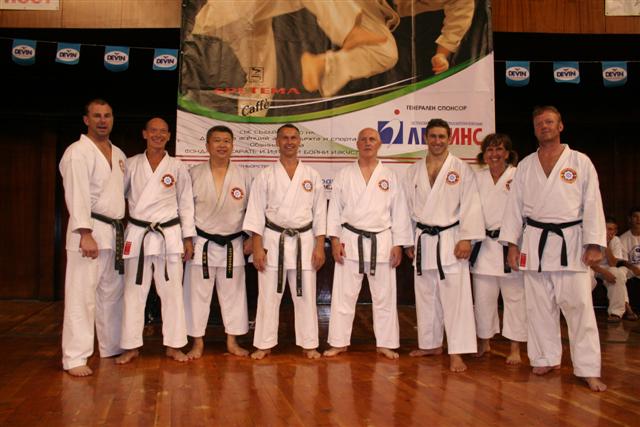 From left to right: Richard Callaghan, Jaap Smaal, Loh Beng Hooi, Steven Morris, Tommy Morris,
Marco Mazzanti, Gina Ragazzo and Alister MacAlister
The Training Camp
The Training Camp was well attended with the biggest section being Sport Kumite which was handled by Richard Callaghan, Marco Mazzanti and Alister MacAlister. Raphael Acktchourine was suffering the pain of kidney stones and was unable to teach. We hope that he will recover soon from this very painful condition. The Shotokan Kata section was looked after by Jaap Smaal, Gina Ragazzo, Loh Beng Hooi, Robert Hamara and Pham Quoc Trong. The Shitoryu/Shukokai Kata section was run by Steven Morris and Patrick Lim. Steven also undertook the training of the instructor's class and Richard, Marco, Jaap and Patrick all took various modules.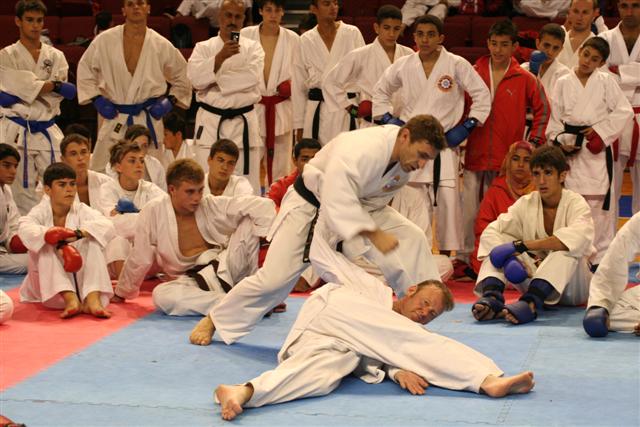 Marco Mazzanti demonstrates a throwing technique on Alister MacAlister

Jaap Smaal teaching kata Jion

Patrick Lim teaching kata Heiku

Steven Morris teaching Ju Jitsu techniques to the instructors class

Kids having fun
To see more photographs click here
The Referee Course
The referees course was attended by 65 persons and featured some very interesting video of various situations which have occurred at major championships. Due to the increasing numbers attending next year will feature a much extended course with a more demanding examination. Details will be circulated later.
The Congress
The Congress took place in the Grand Hotel Varna and a beautiful dinner/reception was hosted by the Bulgarian Karate Federation afterwards. A number of items were discussed including the growing success of the KOI Regional Championships. Bids were accepted for the hosting of the next three KOI World Cups from the following countries; Italy will host in the first week of July 2008 in Latina near Rome, Sarawak will host in 2009 in Kuching and Netherlands will host in Apeldoorn near Amsterdam in 2010. It is good to know that so many people are willing and able to organise the KOI Word Cups and that we can plan so far ahead. Full details will of course be circulated in plenty of time.
Team Leaders
As always a big thank you to the people who make the KOI possible; the referees, team leaders and heads of delegation for their continued support and the effort they make to bring their competitors and students. Bulgaria as the host country of course had the biggest turn-out at around 189 persons but the biggest overseas contingent again came from Russia under the leadership of Kamil Mousin with 100 competitors and a total group of around 160 people! This was closely followed by Iran, Egypt and Uzbekistan.
KOI main groups and their representatives who took part were:
Australia; Richard Callaghan, Marco Mazzanti
Bulgaria: Alexander Todorov and Tony Petrov
Croatia; Vlado Derek
Egypt; Dr. Mourad Assem
England; Archie Grassom
Greece; Andreas Papadimitropoulos and George Sigalas
Hong Kong; David Sung Ka Kui and Fung Wai Kwan
Iceland; Vicente Carasco, Willem Verhuel
India; Neil Moses and Paul Vickraman
Iran: Mohammad Ali Mardani
Italy; Gina Ragazzo and Fabio Meini
Kazakhstan; Vitaliy Shevchenko
Kuwait;
Latvia; Andris Vasiljevs and Maxim Ivanchikov
Malaysia: Patrick Lim and Thiagu Ponniah
Morocco: Mohammed Essalki
Netherlands; Jaap Smaal and Ronald Meijer
Norway; Robert Hamara
Russia; Kamil Musin and Rafael Aktchourine
Sabah; Loh Beng Hooi
Sarawak:Osman Haw
Scotland; Steven Morris and Alister MacAlister
Slovenia; Primoz Debenak
South Africa; Sandra Louw
United Arab Emirates; Metyout Zitouni
Ukraine; Denis Krylovskiy and Viktor Korrenoi
Uzbekistan; Dilshod Karimov
Vietnam; Pham Quoc Trong
KOI Promotional Activities
Fabio Meini did a tremendous amount of promotional work for us in the past year, designing new KOI logos and Certificates, the backdrops for the podium, the totems showing the tatami numbers, the table covers and various advertising materials. He was also instrumental in having X-Kombat attend and film the event for the DVD which will soon be available for you to buy, and for arranging with Savino Scaringelli to have the new competition software available also. Thanks Fabio.
The Future
KOI 17: Latina, Italy July 2008
KOI 18: Kuching, Sarawak, July 2009
KOI 19: Apeldoorn, Netherlands July 2010
Please note that as of next year we will not accept late entries for the KOI World Cup. All competitors must be licensed not later than 31 May each year as their unique licence number will be their competition entry number for all future KOI World Cup competitions. Coaches or the responsible person for the team must be at the registration on the Sunday before the competition to complete the registration details. Also please note that females wishing to wear headscarves for religious reasons will be allowed to do so provided that a plain, unpatterned white scarf is worn with the karategi and a plain, unpatterned black scarf is worn with referees uniform.
If we are to continue to allow competitors to enter more than one category we may have to consider starting the competition in future on Thursday so that we can finish early on Sunday. What do you think, increase the days or decrease the entries? Let us know your opinion by emailing us at future@worldkarate.net
Full details of changes will be distributed to all KOI representatives and will be posted on the website.
---
15th KOI Report
If you want to read about the 15th KOI in Halkida Greece in 2006 click here
---
14th KOI Report
If you want to read about the 14th KOI in Moscow in 2005 click here
---
13th KOI Report
If you want to read about the 13th KOI in Manila Philippines in 2004 click here
---
12th KOI Report
If you want to read about the 12th KOI in Halkida Greece in 2003 click here
---